Tipp: Der Marco Polo Reiseführer.
Top 10 San Francisco
❮
❯
Kirchen in San Francisco
Es gibt zahlreiche Kirchen aller Konfessionen. Hervorzuheben sind die folgenden:
Museen in San Francisco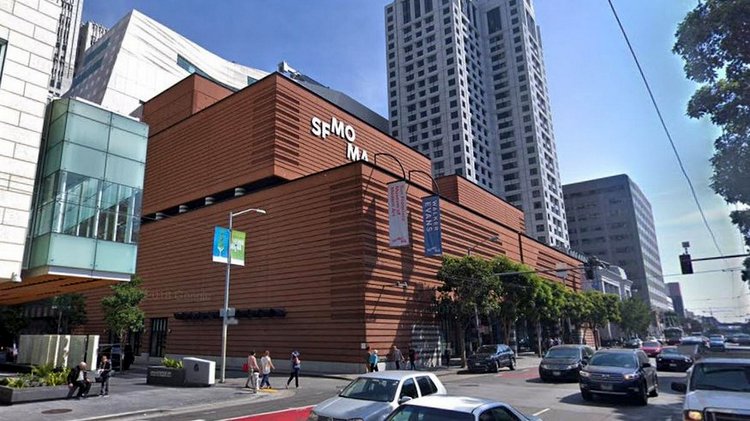 Musik in San Francisco
Bimbo's 365 Club - 1025 Columbus Ave, www.bimbos365club.com
Bottom of the Hill - 1233 17th St, www.bottomofthehill.com
Grace Cathedral - 1100 California Street, gracecathedral.org
San Francisco Jazz Center - 201 Franklin St, www.sfjazz.org
The Warfield - 982 Market St, thewarfieldtheatre.com
Yoshi's San Francisco - 1330 Fillmore St, www.yoshis.com
Theater in San Francisco
Cobb's Comedy Club - 915 Columbus Avenue, www.cobbscomedyclub.com
SHN - Orpheum, Curran und Golden Gate Theater, www.shnsf.com
EXIT Theatre - 156 Eddy Street, www.theexit.org
Intersection for the Arts - 925 Mission St #109, theintersection.org
Lorraine Hansberry Theatre - 450 Post St, lhtsf.org
Marines Memorial Theater - 609 Sutter St 2nd Floor, marinesmemorial.org
The Marsh - 1062 Valencia St, www.themarsh.org
New Conservatory Theatre Center - 25 Van Ness Ave, www.nctcsf.org
New People Theater - 1746 Post Street, www.newpeopleworld.com
ODC Theater - 3153 17th St, www.odcdance.org
Punch Line - 444 Battery St, punchlinecomedyclub.com
Shelton Theatre - 533 Sutter Street, www.sheltontheater.org
Stage Werx Theatre - 446 Valencia St., www.stagewerx.org
Victoria Theatre - 2961 16th St, www.victoriatheatre.org
Walt Disney Family Museum Theater - 104 Montgomery St., www.waltdisney.org
Yerba Buena Center for the Arts - 701 Mission St., www.ybca.org
Sportstadien
San Francisco ist Heimat zweier Profi Teams. Ticket für Tpuristen bekommt man bei Hellotickets (Rabatt/Gutschein-Code: USAREISETIPPS10 *10€ sparen ab 110€ Einkauf):
Universitäten
Parks in San Francisco
National Parks in San Francisco
State Parks in San Francisco
Stadtparks in San Francisco
Es gibt zahlreiche städtische Parks in San Francisco. Hier sind nur die sehenswerten aufgelistet, die für Besucher interessant sind.
San Francisco Zoo
1 Zoo Rd San Francisco, CA 94132
www.sfzoo.org
San Francisco Recreation and Parks Department
www.sfrecpark.org
Weitere Youtube Videos über San Francisco
Liste der höchsten Hochhäuser in San Francisco
Von 1972–heute
Transamerica Pyramid - 600 Montgomery Street
853 ft (260m) - 48 Etagen. Nur Erdgeschoss öffentlich.
www.pyramidcenter.com
1969–1972
Bank of America Center - 555 California Street
779 ft (237m) - 52 Etagen. Das öffentliche Restaurant auf der 52. Etage gibt es nicht mehr.
www.555californiastreet.info
1967–1969
44 Montgomery Street
565 ft (172m) - 43 Etagen. Nicht öffentlich.
www.44montgomery.com
1965–1967
Hartford Building - 650 California Street
466 ft (142m) - 33 Etagen. Nicht öffentlich.
1927–1965
Russ Building - 235 Montgomery Street
435 ft (133m) - 31 Etagen. Nicht öffentlich. 1925–1965
Pacific Telephone Building - 140 New Montgomery
435 ft (133m) - 26 Etagen. Wird 2013 wieder eröffnet. Nicht öffentlich.
www.140nm.com
1922–1925
225 Bush Street
328 ft (100m) - 22 Etagen. Nicht öffentlich.
1921–1922
Commercial Union Assurance Building - 315 Montgomery Street
308 ft (94m) - 16 Etagen. Nicht öffentlich.
1915–1922
San Francisco City Hall - 1 Dr. Carlton B. Goodlett Place
308 ft (94m) - 4 Etagen. Öffentliches Gebäude Tour.
www.sfgov.org
1898–1915
Central Tower - 703 Market Street
299 ft (91m) - 21 Etagen. Nicht öffentlich.
1892–1898
Mills Building - 220 Bush Street
154 ft (47m) - 10 Etagen. Nicht öffentlich.
www.themillsbuilding.com
Weitere Hochhäuser in San Francisco [Wiki]